Note: All pages below are subject to having relevant Roles and Permissions.
The Publishing Cover area is used to locate and publish any arranged Cover that has been Saved but not yet Published.
See also: How To Arrange Cover
From the left Menu go to Modules > Cover > Cover > Publish Cover.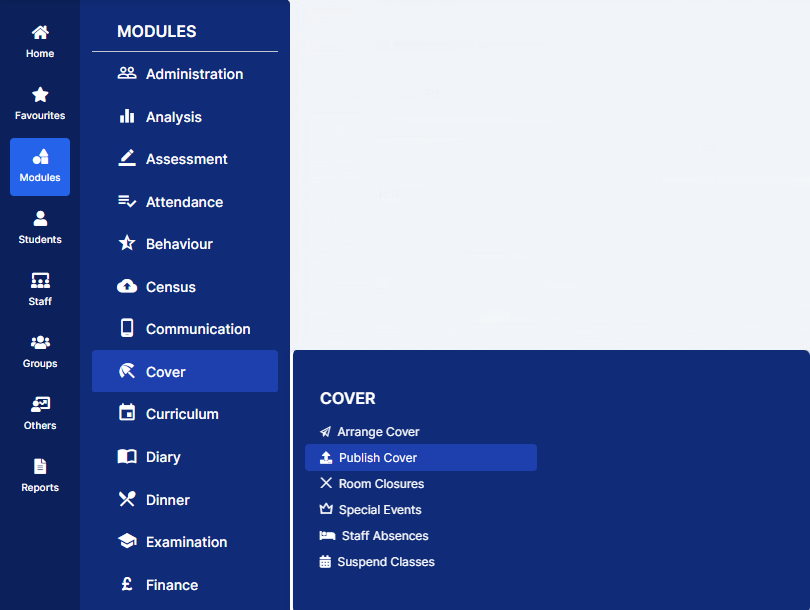 Select the Date Range for the Unpublished Cover.
You can now begin selecting each Cover that you wish to Publish, by using the Tick boxes.
In addition use the Grid Actions to Download, Copy or Print the information in the panel.S
Once selected, simply click the Publish button.
Once you have published the Status column changes from U for Unpublished to P for Published.
You can also Publish Cover from within the Arrange Cover page.
Once Cover has been published the Cover Session now appears on the My Dashboard of the member of Staff who be be Covering.
And in addition when a Teacher clicks on the Take Register option for any Session that day the following Notification appears as a reminder for the Cover Session.
Also on the Overview page the My Calendar Widget displays each Cover Session an orange C. A red X to the right of the C shows the Register is due and has not been taken yet, when taken the X changes to a green Tick.