Exams Officers can use this guide to define which Exam Boards are visible against a defined Exam Season in the Manage Basedata page
Access: The minimum permissions required to access the Exam Boards page is found in the Examination Module of Config>Setup>Roles & Permissions.
See also How to Create a Season Pattern and Season, How to Make a Season Active and How to Manage Basedata
Go Config>Exams>Exam Boards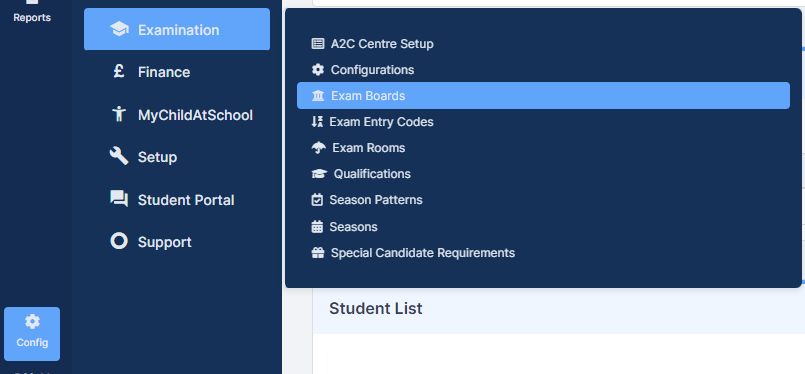 In this example we have chosen Summer 2023
In the example below we've already set 4 Exam Boards as Active for this Season, click on the Active column to sort the Active Status to see the Yes Exam Boards at the top of the list.
Use the Grid Actions to Copy, Export or Print the list.
In the example we wanted to add BTEC Entries to the Summer 2023 Exam Season we would click on BTEC Entries
This Exam Board now becomes visible in the Edit Exam Board panel

Click Active and Save
To remove an Exam Board from the Manage Basedata page select the Exam Board and untick Active. Click Save
In the example below we have selected the School Internal ( Mock ) Exams and this isn't ticked as active in the Summer 2023 Manage Basedata page.
Now in the Manage Basedata page Modules>Exam>Manage Basedata for the Summer 2023 Season we can see 5 Exam Boards Active.