In this guide, we will show you how to use the School Meal Balances page found within Modules>MCAS. This page can be used to View Student Dinner Balances on your system.
If you use a Cashless Catering system, the sync between them and your MIS will update the Student Dinner Balances. If you use Bromcom Dinners for your Balances, you can amend Student Dinners and Dinner Balances via the Students List page, View Orders or Registers.
See also: How to Configure MCAS for Dinner Money and to create a Student or Staff Meal Patterns, see: How to Create a Student & Staff Meal Pattern.
Access: The minimum permissions required to carry out these tasks are found in the MCAS Module of Config>Setup>Roles & Permissions.
From the left Menu, go to Modules>MyChildAtSchool>School Meal Balances.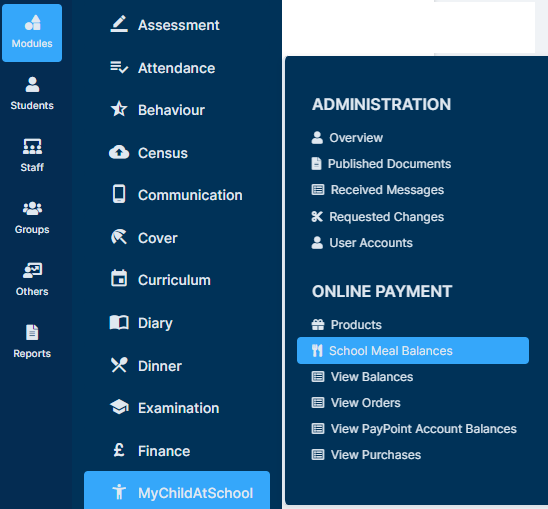 You will then see a list of Student Dinner Balances presented in a table.
At the top of the page, you have the option to Export the list of Dinner Balances.
The Year Group drop down also allows you to filter the page to Students from one Year Group at a time if you wish to look at a Year Group.