Note: All pages below are subject to having relevant Roles and Permissions.
Hover on the Modules heading on the Toolbar select Cover and click on Suspend Classes.
The Suspend Classes page allows specific periods of a defined class to be suspended.
Note: Suspending Classes will not collapse the Timetable. The purpose of Suspending Classes is to free up Rooms and/or Staff so that they can be used for Cover. See How to Set Configurations in Cover
There are two Configuration options relating to Suspended Classes. The first option allows you to set a Room Available for use when arranging Cover, when a Class is Suspended. The second option allows you to set a Staff Member as Available when arranging Cover, when a Class is Suspended.
To create a new Class Suspension, begin by clicking the New button.
Selecting either Class, Year Group or Tutor Group from the Group Type drop down.
Once selected use the Find tool to locate the specific Class or Group for which you wish to create a suspension.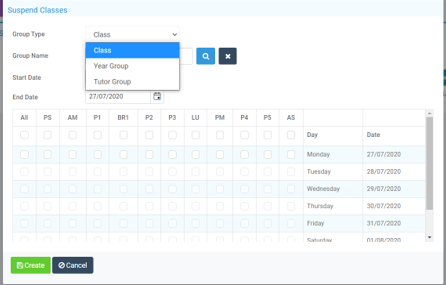 Once selected, you can specify the date range in which the class suspension will reside.
Once you've set the date range, the table will update to include the specific days and periods within this date range.
You can begin selecting the individual periods for suspension by simply ticking each tick box. Do this for each day that you wish to have a suspension.
Once you have selected the periods/days that you wish to suspend, simply click the Create button to save.
In the example below Year Group has been selected and Year 10, the Start Date and End Date have been selected to show one week.
Ticks have been applied to Monday, Tuesday, Thursday and Friday – this will suspend the classes for those days for all Year 10 Students.
Click Create to Save.