Attendance Officers can use this page to carry out the following tasks on the Student Attendance Page. View the Student Attendance Status for the day, view the Student Profile, Amend Student Attendance
Access: The minimum permissions required to access the Student Attendance Status page is found in the Attendance Module of Config>Setup>Roles & Permissions.
See also: How to Use Today's Missing Registers, How to Create and Manage Attendance Marks and How to Use Bulk Attendance Update
From the home page go to Modules>Attendance>Student Attendance Status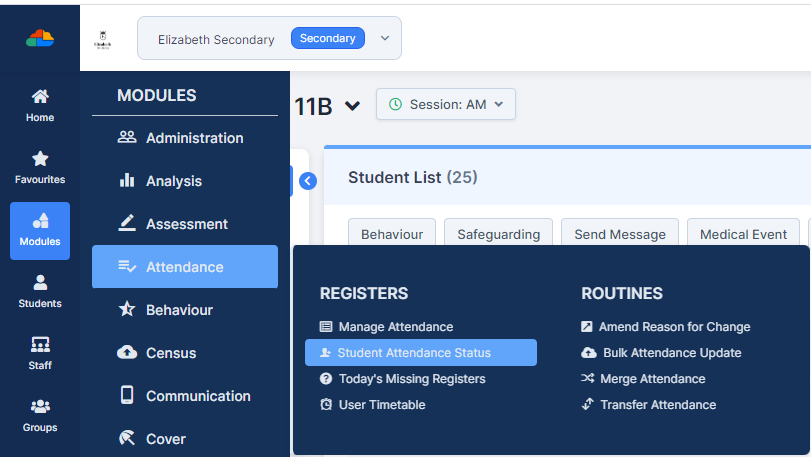 The page opens by default as below;
Untick the Status buttons as required
From the Periods select which ones to view
From the Groups choose the required Groups
The screen is set to Refresh every 60 seconds by default however, you can untick and Refresh when required.
You can also Print the Page
In the example below we have selected the following parameters for the page;
Status = unauthorised absence
Periods = all
Report Group = (S) Current
We can now view all the Students that meet the criteria set.
Right Click on each Student to see either Amend Student Attendance or Student Information.
So in the example you want to phone home to speak to the parent click Student Information
This will load the Student Profile Page where you can see the Contact Information, note you still have a tab open with the Student Attendance Status page open.
Once you have the attendance information for the selected Student click right click and Amend Student Attendance
This will open another tab for Manage Attendance pre loaded with the selected Student for this weeks attendance
Then you can mark the necessary attendance marks, Save and return to the Student Attendance Status Page, click Refresh to update the Student List.