Note: All pages below are subject to having relevant Roles and Permissions.
From the left Menu go to Modules > Attendance > Today's Missing Registers.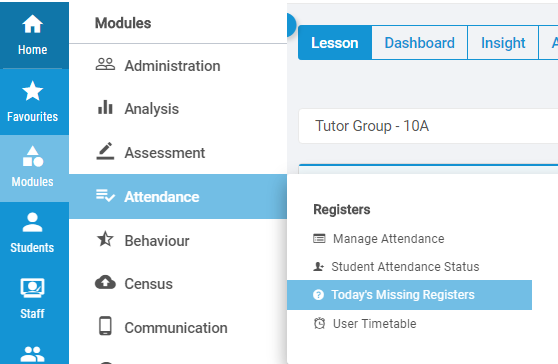 This will open the below page.
Select the Date and check or uncheck Auto Refreshed. The Auto Refresh is set for 60 seconds by default.
Select the Periods to be viewed and under Status, tick the box Missing Registers.
Click the Refresh button for immediate results.
Note: The Update Headers button will update the Registers based on the Period/Header where a Code was entered in the system.
So if a Teacher was absent and the Attendance Officer used Manage Attendance instead of taking their Register, Update Headers will pull the marks from Manage Attendance to update the Register and mark it as Completed.
Register Status
Missing – Red = Register has not yet been taken
Requested – Bright Blue = Register has been called down to be taken by the Teacher
Sent – Green – Register has been taken and sent back
Amending – Light Blue – Register has been called down, marked and sent back, then called down again for amendments
Send Teachers Reminders to Complete their Register
To send Teachers a Reminder to complete Missing Registers, click the Send Reminder button.
From the Send Reminders page, select who you want to send the Reminder to and amend the Reminder Message if needed.
Then click on the Send Reminder Message button.
Edit the Reminder Message as required, any changes made will be visible the next time you use this function.
A Notification will be sent to those listed and will show as a red flag when they click on the Bell icon the Reminder Message will display.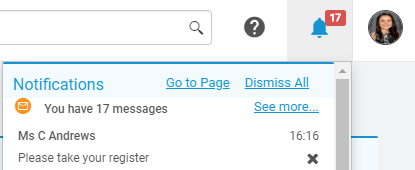 When the member of Staff clicks on the message to reply this again will show as a Notification at the top of the screen.