Note: All pages below are subject to having relevant Roles and Permissions.
This guide will show you how to Delete Assessment Data, for example if data has been been entered in error.
Important: please note this is a Permanent Delete.
Start by going to Modules>Assessment>Manage Data 
Then select Action and Bulk Delete
In each box you will find a Drop Down. The first four fields are * and mandatory.
Assessment Types – the Assessment Type of results you wish to delete – Attitude to Learning for example
Terms – the Terms for results you wish to delete – Autumn 1 for example
Year Groups – the Year Group of results you wish to delete – Year 11 for example
Subjects – the subjects for the results you wish to delete – English for example
Data Range
Grades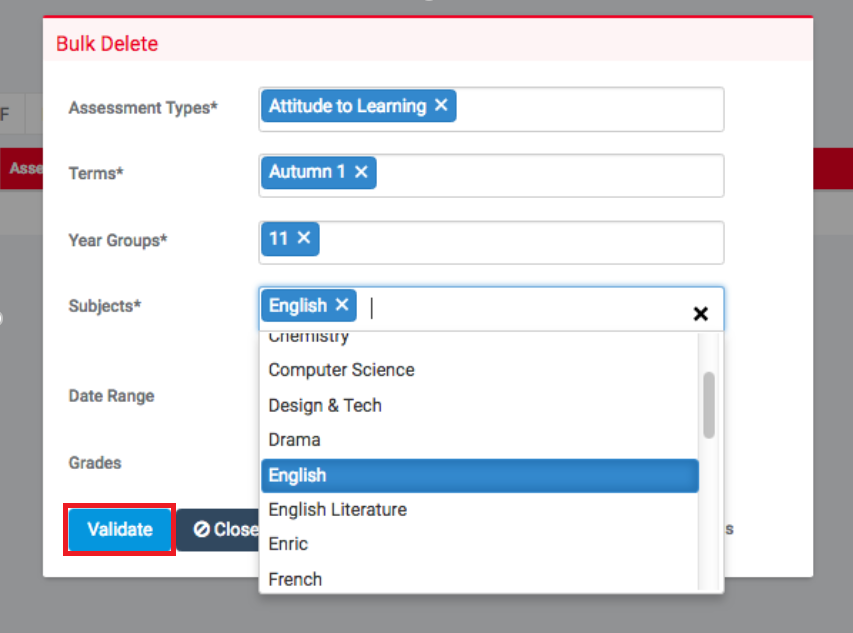 Click the blue Validate button at the bottom.
The following list will appear showing you what is about to be Deleted.
Click Delete if you wish to proceed permanently deleting this data and you will be asked to confirm.
Please note this it will permanently delete the data from students records and the MIS.