Note: All pages below are subject to having relevant Roles and Permissions.
Please note you cannot use the Bulk Group Assignment Tool to assign Pre-Admission students to Groups. It will need to be done via the Groups page.
From Curriculum click on Bulk Group Assignment.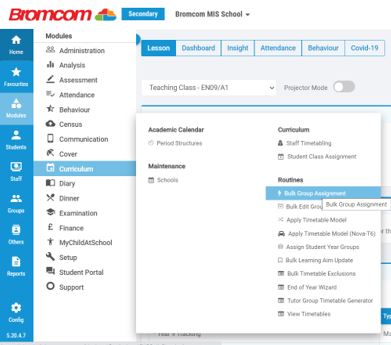 In this example we are applying to Classes, so leave the setting as the default Class Memberships.
Click Find and use the Filters to find all of the Groups required for both transferring from and transferring to, then click Done.
Select the Students to transfer by clicking the Student Find or by typing their name into the window and clicking to add to the Student Selection List.
When all Students have been selected click Go.
The Bulk Group Assignment page will then display the current Memberships of the Students selected.
For multiple selections make sure the Add/Remove on click option is selected from the dropdown list.
Amend the Start Date to the required date
Now uncheck the Groups for each Student of Subjects they are being transferred from. Tick the the new Groups to re-assign the Students as of the Start Date selected.
When you're finished click Save and Close.