Note: All pages below are subject to having relevant Roles and Permissions.
Hover on the Reports heading on the Toolbar select Cover.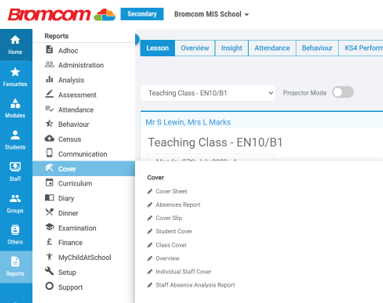 Absences Report:
The Absences report will give detailed information on absences that have taken place.
Class Cover:
The Class Cover report gives detailed information on classes that have received cover.
Cover Sheet:
The Cover Sheet report allows users to define and produce a table displaying any cover that has taken place within a specific date range.
Cover Slip:
The Cover Slip report allows users to create a notification of cover slip.
Individual Staff Cover Report:
The Individual Staff Cover report provides users with a detailed page of information that relates to staff cover on an individual basis.
Overview:
The Overview report gives a detailed overview of all events located within the Cover module.
Staff Absence Analysis Report:
The Staff Absence Analysis report will output an analysis of all staff absences within a user defined date range.
Student Cover:
The Staff Cover report gives detailed information on any students who have received cover.