In this guide, we will show you how to use Options Timetable Patterns. Timetablers or Curriculum Managers can use Timetable Patterns to view and/or amend Timetable Patterns set against a selected Options Set Up with the option to view the number of Students per Subject and Block with Level of Satisfaction.
Timetable Patterns are 'alternative suggestions' for how to assign your classes to the blocks, with the Level of Satisfaction for each alternative pattern shown.
Prerequisites: You must have the Options Module licenced on your MIS. The Options Module is available for all One Stop Shop customers and you can get this licenced by emailing customercareteam@bromcom.com
Access: Depending on which Options functions you would like staff to see/access, all of the relevant permissions are located in the Options Module of Config>Setup>Roles & Permissions (after it has been licensed).
See also : How to use the Options Set Up Page, How to Import Pupil Choices, How to Review Pupil Choices and How to use the Clash Table
From the Home Screen go to Modules>Options>Options Reports>Timetable Patterns
The Timetable Pattern page shows the Name, Year group, Start Date – End Date, Number of Submission Made, Status and Actions for each Options Set Up.
Type in the Column Header for Name, Year and Start Date – End Date to search the Options Set Ups.
Use the Filter cups to further Filter within the Table
Click the burger stack symbol to the right of each Column Header
From here you can Pin the Column Left, Right or No Pin
Autosize This Column or All Columns and Reset Columns
Use the Filter Symbol to further Filter using the dropdown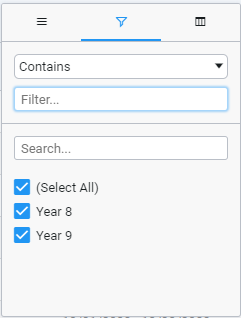 Use the Grid Symbol to Hide/Unhide Columns in Timetable Patterns.
When the Status for an Options Set Up shows Settings Required the View Patterns will not be editable. Once the Patterns have been set the Status will show Complete with the option to both View Patterns or View/Amend Timetable Pattern Settings.
Click Timetable Pattern Settings from here you can amend the Number of Blocks, Depth – Level of Satisfaction (using a dropdown) and Number of Patterns( this must be between 3 and 6)
Click Next.
Use the Group Settings by Subject to filter on Subject and view/and or amend the Max Size of Groups and Max Number of Groups for each Subject. The Subjects can be fine tuned just before generating if for example you need a 2nd German Group.
Click Generate
You can then View the Patterns showing the Subjects within each Block and the Level of Satisfaction
Click View Details to see the number of Students in the Blocks and Subjects
When Viewing Details a user can also;
Click on any subject count (number will be in red if it is over the subject setting but within 10% (by default)
View Unassigned Pupils. This will display all the Students whose choices cannot be fulfilled in that block
Edit Choices. User will be able to add a Student to another subject within that block
Use Reserve Choices. This switch enables the user to add a Reserve choice which was to the unassigned subject through the subject group at setup