In this guide, you will be shown how to to create an Exam Season, set up Basedata and create Entries and create different tiers in Mock Exams for example GCSE English Paper 1 Higher and GCSE English Paper 1 Foundation
Access: The minimum permissions required to access the Exams page is found in the Exams Module of Config>Setup>Roles & Permissions.
Prior to creating the Mock Exam Basedata you will need to have set up a Season Pattern and Season for the Mock Exams see How to Create a Season Pattern and Season
First go to Modules>Exams>Manage Basedata.
First create the Series by right clicking on Mock Exams
Then right click on the series to create the Qualification for example GCSE History
Right click on the Qualification to add the Exam Option for example GCSE History Foundation and then repeat for GCSE History Higher.
Then Right Click on each of the Exam Options to add the Component.
– THE COMPONENT IS THE ACTUAL EXAM PAPER WITH A DATE, TIME AND LENGTH
When you come to make the entries for the students from the teaching classes see How to Manage Exam Entries
Go to Modules>Exam>Manage Entries>Action>Manage Entries By Class
Select the Teaching Classes you require, in this example 2 Year 10 History Classes have been selected, click Done.
Then in the next screen click Add Option Code.
In this example the selected Teaching Classes have some students doing the foundation paper and some doing the higher paper, for this scenario choose both Exam Options for click Done.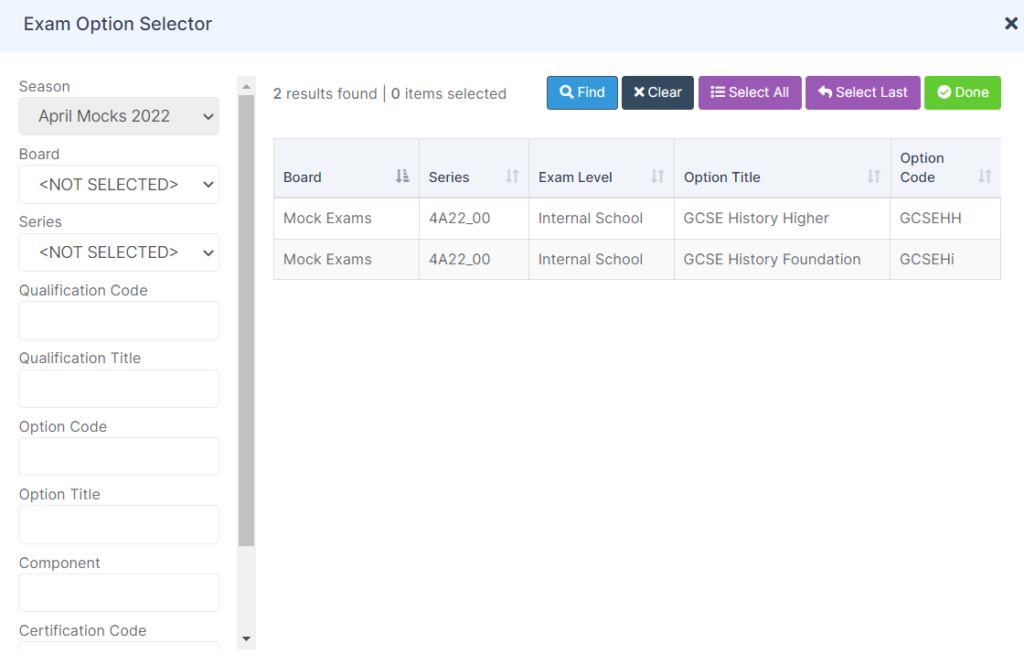 Then as you can see in the example below you will have 2 columns to make the entries and choose either Foundation or Higher
Click Save when the entries have been made against the students, click Next to see the Next Teaching Class.