Parents can use this guide to view their child's Timetable in a desktop view of MCAS ( MyChildAtSchool)
The example screenshots in this guide are for illustration purposes only and may differ from your MCAS view, your school configures what your MCAS Dashboard view is.
See also How to use the MCAS Parent Portal and How to reset MCAS Password
The Timetable option is accessible from both the Menu Bar and a Widget.
Either click on Timetable in the menu bar or click More in the Timetable Widget to access your child's Timetable,
The Widget will display the Timetabled sessions for the day highlighting the current session.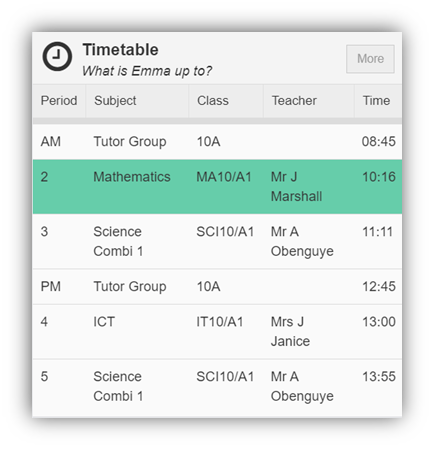 Click on the More button will display your child's Timetable for the current week, the previous and future weeks can be viewed as well.
Select Weeks from the right hand drop down and Previous/Next from the left hand side