Note: All pages below are subject to having relevant Roles and Permissions. Go to The Modules – Finance and Finance Home Page
Go to Accounts Payable and select Invoices & Credit Notes.
A new Toolbar will be displayed and the screen will show existing Invoices.
Select New then click the Non Order Invoice button.
Enter Supplier and select Bank Account.
Enter the Invoice Number, Invoice Total (£), Invoice Date, Paid by Date and Posting Period information
Save the Invoice then check the Lines.
Use the Record/Edit Invoice Row button to add Rows to the Balance.

Add the Cost Centre, Ledger Code, Fund Code and VAT Code information in the Accounting section and the Description and Net Amount in the Items section.
Save the Line and create more if required.
The Invoice will be shown as Unauthorised to approve the Invoice for payment, click Authorise button.  Alternatively, another party can authorise the invoice at a later date.
Note once an Invoice is approved, it cannot be cancelled, and Credit Note will need to be raised.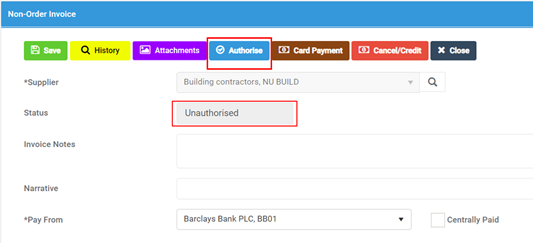 The Invoice will now be shown as Authorised and is ready for Payment Processing.