Note: All pages below are subject to having relevant Roles and Permissions.
CEA
Select the Cumulative Expenses Analysis report from Reports, Finance section
Choose your Parameters and select Preview
Example Below
All reports can be either printed or exported
Trial Balance
Select the Trial balance report (either by Income and Expenditure or Ledger Code depending on what you need to see)
Select your Parameters and Preview
Example below
System Checks
This report can be useful for your monthly checks in preparation for your end – select System Checks from the Reports section
Select your Parameters and Preview
Example below
Schedule Reports
Reports can also be scheduled – Select Schedule within the report
Choose whether you want to Export, Email or send to My Reports
Complete the details in including the format
Select the frequency you want to send it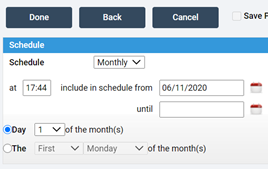 Select Done

Emailed reports will go straight to the sender, exported reports will show in My Documents
To view an item right click on the icon and select View.
For My reports go into your Profile and My Reports

Again, to see the Report, right click on the icon and View.
You will receive a Notification in the bell on the top right when these are ready.