Note: All pages below are subject to having relevant Roles and Permissions.
Go to Finance, Modules and select either Chart of Account Enquiry or Cost Centre Enquiry options in the General Ledger section..
For the Cost Centre Budget select the Cost Centre Enquiry option a report will run with default view being all Cost Centres.
To reduce number of rows, in the left-hand pane Cost Centre Groups narrow the available data as required by selecting a lower level in the group – in this case Curriculum.
Drill down by double clicking on the Cost Centre row – in this case Pupil Premium to show Actual. Actual represents actual to date i.e. in the financial year under review.
Further information can be seen by using the drill down facility on the item to be reviewed or using the journals button.
Example of Invoice drill down.
Similarly, information on commitments can be viewed by clicking the Commitments button – make sure that the ledger code line is selected before drilling down.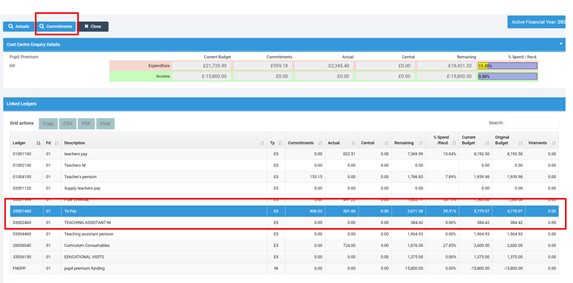 Example below.
Invoice images can be viewed from the individual invoice transaction in the Accounts Payable module (if scanned) by using the View Action button and selecting the required document.
Double click on the File name to view the Scanned Invoice.