Note: All pages below are subject to having relevant Roles and Permissions.
In this guide, we will explain what Data Items are within a Report and how to use them.
To begin, select a Report Type and a Report Domain from the Adhoc Report creation screen such as Table Report and Students.
The Reporting Data Items section has five tabs: Data Items, Filter Items, Most Used, Favourites and Search.
Data Items
The Data Items option displays a list of the available Data Items in an expandable and collapsible tree.
Filter Items
The Filter Items option contains a list of available Data Items in an expandable and collapsible tree that can be used as Filters within the Report Filters & Intervals page.
Most Used
The Most Used option is where the system begins to build up a list of the most used Data Items for future use with the most used listed at the top.
Favourites
The Favourites option allows Data Items to be added to the Favourites list. This is done by drilling down within the Data Items list and right clicking on the required Data Item to add it to Favourites, where they are then sorted alphabetically, the list can be sorted in ascending a descending order by clicking on any column header and selecting the up down arrow to sort.
Search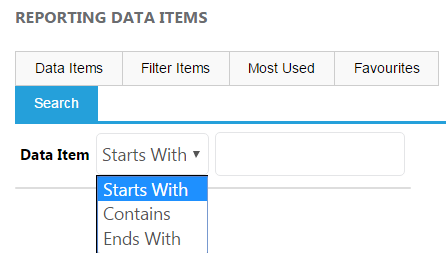 The Search option allows a search of the Data Items to be made using the Search options selected.