Use this guide to map your Exam Components to Subjects and then perform an Analysis Data Transfer. This process will ensure that your Exam Results will be available to add to Tracking Templates and then appear in Assessment Sheets. See How to Add Results to an Assessment Sheet
Access: the minimum permissions required to access Exam Options Subjects is found in the Analysis module from Config> Set Up > Roles and Permissions
See also Exam Results Guidance
Exam Option Subjects
Go to Config>Analysis>Exam Option Subjects
Choose the required Exam Season from the dropdown
Then map the Exam Option Codes to the Subject by using the far right drop down choices.
You can use the top right search box to filter the panel. In the example below we have typed Maths into the Search box
When you are happy with the mapping click Save.
Now you can perform an Analysis Data Transfer to transfer your Exam Results into the Analysis Module
Analysis Data Transfer
Important Note: In order for Assessment/Exam Results information to be visible in the Analysis Module you must first complete an Analysis Data Transfer which transfers data from the Assessment/Exams Module into the Analysis Module.
Go to Modules>Analysis>Analysis Data Transfer
This screen defaults to Transfer On Roll Students and Current Year Only, these choices can be amended if required.
Remember if you are performing a transfer in September and you want to see the Exam Results from the previous year remember to tick Last 2 years
Click Transfer Now, note this process will take several minutes, once complete you will receive a notification pop up on the top right of the screen.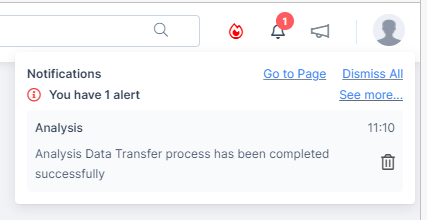 You have now completed the Analysis Data Transfer and your Exam Results will be visible in Modules>Analysis>Assessment
For further guidance on Assessment Analysis see here