Note: All pages below are subject to having relevant Roles and Permissions.
Use this article to send a SMS OWM (One Way Message) to a Student, Staff member or a pre-defined Message Group. Note there is a 40 character limit on the message text.
See also How to Send an SMS Message or Email and How to Purchase SMS Messages.
OWN One Way Messages
From the Home Screen go to Modules>Administration>OWM
Within the One Way Messages panel click on the Messages drop down to see Sent, Received or View All. Note the drop down defaults to Sent.
To Create a new OWM first click on the Select Message Recipient drop down to choose either Student, Staff or Msg Group.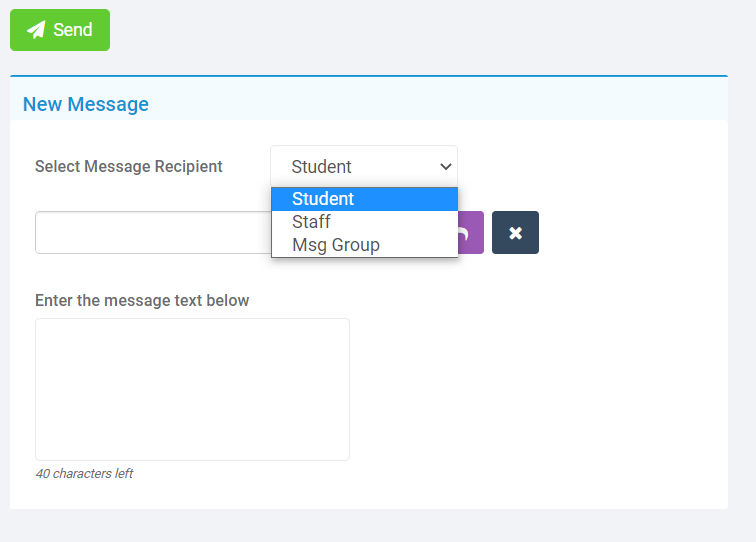 Then either type in a single Student, Staff or Msg Group name or click the Find button to open the Student Selector, Staff Selector to choose multiple Students or Staff.
For sending to a Msg Group choose the required Msg Group from the drop down.
Type the message text (maximum 40 characters) into the box and click Send.
Message Groups
From the Home Screen go to Config>Administration>Message Groups
Click on a Name in the Message Groups Table to view or edit the Recipients in the Edit Message Group panel.
Use the Grid Actions to Copy, Export or Print the Groups/Recipients.