In this guide, we will show you how you can communicate with Parents through MCAS, reducing the need or necessity to send email communication.
This guide works on the following pre-requisites;
Having the MCAS Module licensed and configured.
Having User Accounts created and Contacts having successfully redeemed them.
This guide will consist of two areas;
Access: the minimum permissions required to access MCAS are found in the MCAS module from Config>Setup>Roles and Permissions
See also How to use the MCAS Parent Portal
Contacts sending messages to Teachers
As you know, MCAS is a platform that allows Contacts to view their childs data, progress and timetable.
MCAS also provides the ability for the Contact to directly message a Teacher.
They can do this by going to MCAS and clicking on the Envelope/Message Icon on the top right of the site.
This will take them to the conversation area of MCAS.
From here, any existing conversations will be visible as shown in our example below;
Whether there are or there aren't any existing conversations, Contacts can select a Teacher from the New Conversation drop down on the left.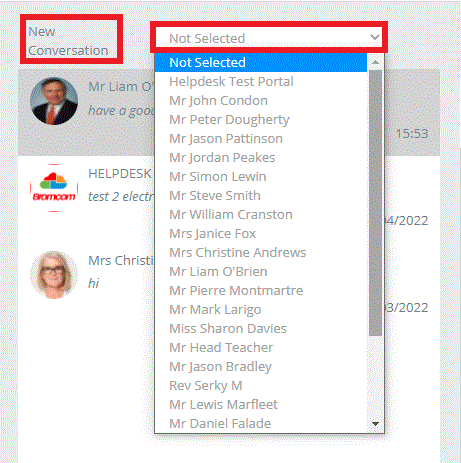 When a Teacher is selected that hasn't been contacted before, a fresh conversation box will appear on the right of the screen.
Once a message has been sent to the Teacher, it be visible meaning that it has been sent directly to them.
Note: As you will be shown, these messages do not arrive as an email, they arrive as a notification within the MIS.
Now that a Contact has sent a message to a Teacher, the Teacher can reply using the following method.
Within the MIS, click on the Bell/Notification Icon on the top right
A preview of the message will display if there is one present, but to respond to any messages, click on Go to Page.
This will load the notifications area of the MIS which is specific/individual to each user.
From the side Menu, press Messages.
This will load any and all messages that the Teacher has received.
In the same way that a Contact sends messages to Teachers, Teachers can respond in the same way.
All that is required is to type the message and press Send.
Once a reply is sent, this will deliver to the Contact and show as blue.
The advantage of using this function is that the Teacher's email address is not displayed or used, this is merely a form of direct communication between a Teacher using Bromcom and a Contact using MCAS.
Note: Please bear in mind that in this area, Teachers can send and receive messages to/from Students, Contacts and other Staff.
This is done by pressing New Conversation and selecting the Recipient Type.
While Contacts can only send messages to Teachers that appear in the New Conversation drop down as mentioned earlier.