Note: All pages below are subject to having relevant Roles and Permissions.
In this guide, you will be shown how to create a Club or Trip from within the Groups page. A Club is usually a reoccurring activity/service like Breakfast Club or Basketball, while a Trip is a one off activity/occurrence like Ski Trip or London Aquarium.
In Bromcom, there are various types of Clubs or Trips that you can create.
Free – For a Club or Trip that requires no fee to enrol/attend.
Paid – For a Club or Trip that requires a fee to enrol/attend.
Running Balance – For School care taken before or after School times.
See also: How to Edit and Maintain a Club and How to Take Club Attendance.
From the left Menu go to Groups > Group Type > Club.
Next, click on New.
This will open the Create New Group window, which provides you with the ability to enter the the following information;
Note: All fields with * are mandatory and must be completed.
Club Payment Types – can be either Free, Paid, or Running Balance. With Running Balances students can be assigned to specific sessions either by Administrators or Parents. Parents then pay off the Running Balance over time
The Start and End Date – refer to the dates when the Club will be running, you can timetable this further on to specific times
Membership Limit and Reserved Spaces – is how many people you wish to have in the Group and how many of those spaces can be Reserved in advance.
Waiting List – whether you wish to run a Waiting List in case anyone drops out or leaves the Club
Attachments – are associated documents about the Group, such as Flyers or an Itinerary. These can be Uploaded as a Document
Linked Groups – clicking on the Linked Groups button opens the Group Selector page where you have the option to select who the Club or Trip is for – Classes, Year Groups or other Types of Groups. Once you have selected the Group type (if needed – you can just leave it for the whole Group), select the further sub Groups within that area, then when you're finished click Done, if you want a Trip to be for a select group of Students create a Report Group first with the selected students.
Important Note: leaving the Linked Groups empty will open the Club/Trip up for all Students. – If you wish to restrict the Club/Trip to specific Students, you would select a Group here and only the Students in it would have access to the Club/Trip.
If the Group Selector is open, click on the desired Group/Groups and press Done.
This will take you back to the previous screen (unless you did not add a Linked Group).
Now, click on the Save & Edit button.
You have now created your Group and you will be redirected to the Groups Details area of it, where you can add further information for the Club/Trip.
Alternatively, you can press Save and resume creating the Club/Trip later.
Group Details
After pressing Save & Edit, the Club will be displayed where additional information can be added.
Alternatively, if you selected Save earlier and navigated away from the Club, you can return to it from Groups > Group Type > Club.
Once you find it, press View to open the Group Details area shown below;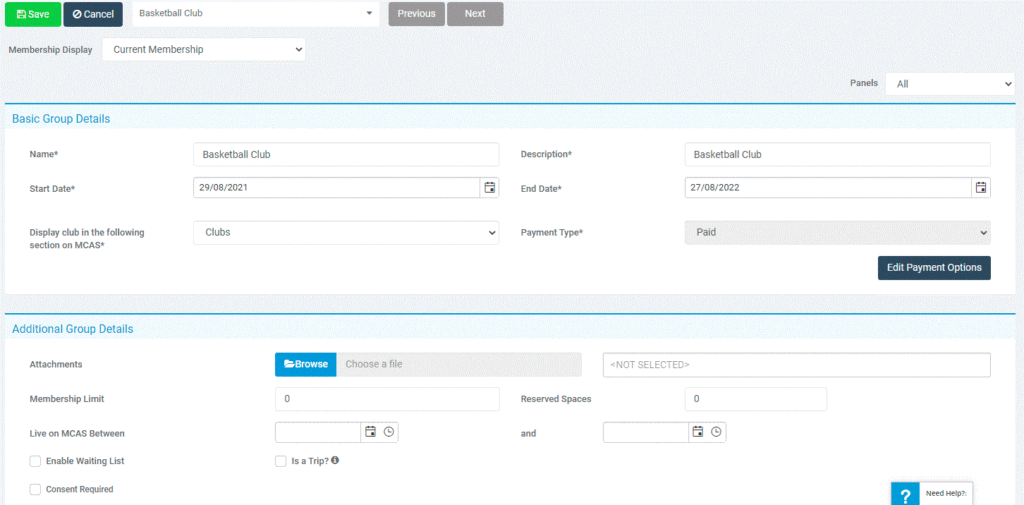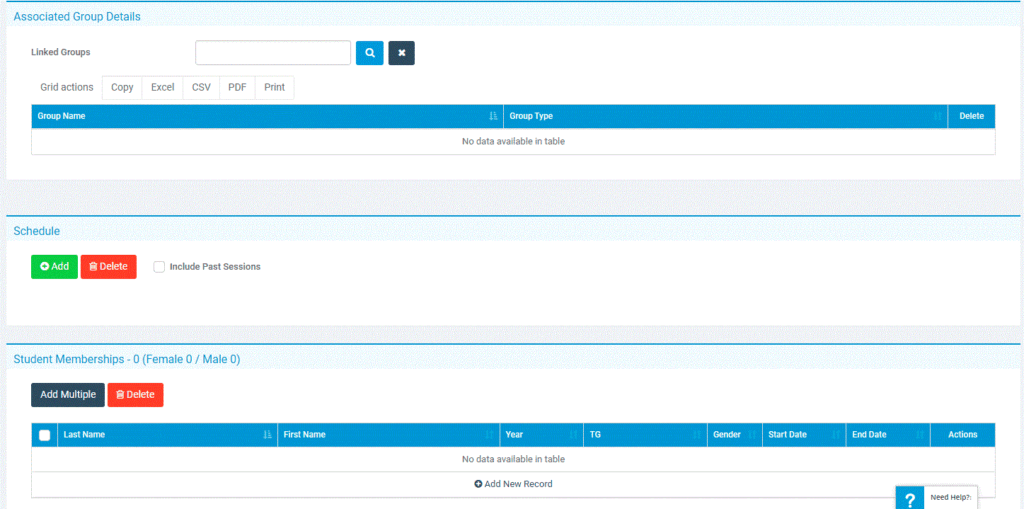 From Group Details, you can view the Basic Details selected earlier and input Additional Details, such as the Dates for it to appear Live on MCAS and add Payment Details.
Basic Group Details
This area allows you to amend the Name, Description, Start Date and End Date at any time.
The Display club in the following section on MCAS is a mandatory selection and will display the Club under the Clubs, Trips or Wraparound Care sections on MCAS.
The Payment Type is dictated by which option you selected previously and the Display on MCAS section is for you to choose where you want the Club to Display.
If the Club is Paid, you will have an Edit Payment Options.
Fixed Price allows you to set a Price that must be Paid in one transaction
Instalments allows you to set a series of Payments split over a period of time.

Enable Part Payment is only accessible within Instalments but they are separate, Part Payments allows Parents to make flexible payments of their choice as and when they want towards the total price.
If needed, the Payment Option you select can be changed once the Club/Trip is live and there are Orders against it. So if the Club/Trip is initially charged in Instalments, you are able to then change it to a Fixed Price Club/Trip should you wish.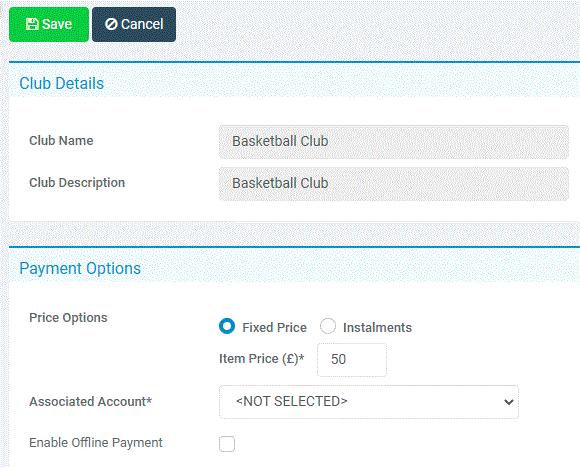 Additional Group Details
This section allows you to set a Membership Limit and Reserved Spaces.
Membership Limit dictates how many Students can Purchase/Enrol to the Club/Trip, while the Reserved Spaces automatically deducts spaces, potentially so that you can add Students who's families don't use MCAS.
Live on MCAS dictates the Dates the Club/Trip is visible in MCAS.
Group Discounts
A new feature has been added to the Additional Group Details section for Group Discounts. This provides you with the ability to apply different Charges to different Students by linking the Charges to an Associated Group, which only Students in those groups will receive/have access to.
For example, you could have two Reports Groups, one for PP Students and Non PP Students. If the PP Students should pay less, you can link the lower Charge to their Report Group while linking the higher Charge to the Non PP Students Report Group.
This negates the need to re-create a Club or Trip just so you can make a cheaper version of it for other Students, which was previously the case.
Associated Group Details
This section allows you to add or amend any Linked Groups that have been linked to this Club/Trip.
Linking a Group to the Club/Trip means that only Students from that Group will have access to/be able to enrol to the Club/Trip.
Schedule
The Schedule is very Important when it comes to Clubs and Trips. This is how you outline when/where the Club takes places and the Schedule being present is a big part of how Students can see/enrol to it on MCAS.
When you press Add, you will be required to populate the following information;
Another new feature has been added to allow you to add Sessions for past dates in the Schedule area of Clubs. Previously this feature was not available and would cause issues if a Club was created but the first few Sessions were not in the Schedule for example.
Select the desired date and complete the mandatory fields with * next to them as shown below.
When editing a Club, Past Sessions can be added via the Schedule.
Student Memberships
The final section of the Group Details is Student Memberships.
This is where you can view, amend or add Student Memberships to this Club/Trip.
When you press Add Multiple, you will be presented with a Student Selector and Start Date.
These allow you to select which Students you wish to add to Club/Trip and from which Date.
This could be useful in situations where a family does not have MCAS but they want their Child to attend, meaning you could add the Student manually on their behalf.