Note: All pages below are subject to having relevant Roles and Permissions.
See also How to Edit a Teaching Class for Group Exceptions.
From the left Menu go to Groups and select Teaching Class from the Group Type dropdown list, for a Secondary school Teaching Class will be the default when viewing the Groups page.
lick on the New button
Complete all mandatory fields (denoted by *) – Name, Description, Start Date, End Date Year Group, Subject and Exam Level.
Optional fields:
Enable in register student addition – allows a teacher to add a Student to a lesson on the fly. For example Year 12 Teachers may wish to add students to a class as they arrive for the class at the start of a Year 12 course after GCSE Results.
Main Teacher and Default Room can also be added later if needed.
Select Save and Edit to add Timetable details and any Learning Aims information.
The page will display a summary of the Basic Group Details. The Learning Aims section will only activate if an appropriate Exam Level has been added.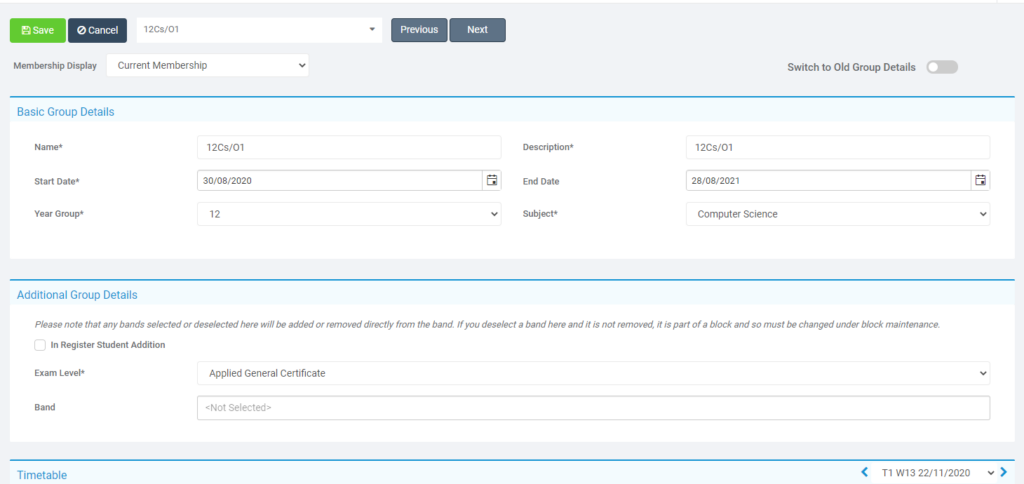 Timetable the Class
To add Timetable details, scroll down to the Timetable section.
Use the Term & Week dropdown at the top right to select the correct Time Period.
The red-bordered Period indicates the current Period. Add a new Period by clicking on the desired Period and add the Teacher and Room.
Click Save.
Continue until the Timetable has been created.
Scroll to the Associated Timetable section.
Add Staff and Room If Needed
Select the Update Staff & Rooms button.
Click Save to update the Associated Staff and Associated Rooms sections.
Note: Remember the page will display Current Memberships. If a member of Staff has been added to start in the future, their entry will not be displayed until that date.
Add Students – By Name
Scroll to the Student Memberships section, to add one Student click on the Add New Record button.
Select the Student from the dropdown list, then click the Tick to Add them or the X not to.
Tip: to add Multiple Students, select the Add Multiple option.
Find the Students and then select Done and Save.
Add Students – By Transferring from Another Class
Please see associated guide: How to Transfer Students Between Groups.
Deleting the Class
To Delete a Timetable Period, select the week from the Term & Week dropdown menu, then right click on the desired Period to Delete.
Confirm the process and then Update Staff and Rooms as before. This will also be updated during the overnight process, if not done at the time.