Note: All pages below are subject to having relevant Roles and Permissions.
This page will show you how to send and receive Alerts on the Teacher App.
Also see: How To Register and Login to the Teacher App and How To Use the Teacher App
Contents:
Note: Please make sure you have the latest version installed for the Teacher App, this can be downloaded from the Google Play Store for Android and the Apple Store for iPhone.
Alerts
The option to send an Alert is available to ALL Users. The option to receive Alerts is only available for Alert Watchers. All Alert Watchers will need to be setup by the Bromcom Administrator. Alerts can be sent in an Emergency for Security, Medical or Fire or as a General or Event Notification.
Note: This option will NOT work with the Safari browser.
Sending an Alert
Once logged in click on the Send Alerts option. You may have to scroll down depending on which device you are using.
This will open the Send Alerts page, giving the option to send a General, Security, Medical, Fire or an Event Alert.
Select the Alert Type by clicking the Radio button to the right of the Alert, which will now display green. Enter the name of the Room you are in, add a Comment if it would be of help and click the Send button.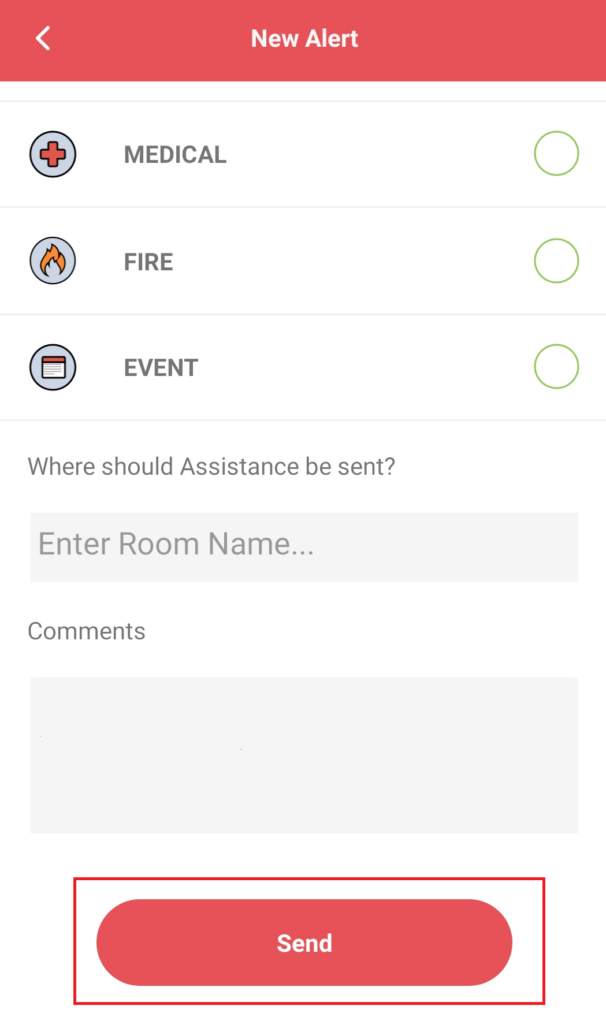 The Alert will then be sent to Alert Watchers set to see that Type of Alert. so they can react.
Receiving an Alert
The Alert Watcher will receive a Notification with the Alert Type and Details, this will show on the Teacher App if open or as a Push Notification with an Alert Sound if the Teacher App is not open.
Click on the Notification or Push Notification to view the Alert where you can respond if needed.
Viewing Your Alerts List
You will be able to view your Received Alerts by clicking on View Alerts from your menu.
This will open the View Alerts page, where you can view your previous Alerts.