Note: All pages below are subject to having relevant Roles and Permissions.
This page will show you how to View and Select Meals and how to View and Top Up your Balance.
See also: How To Register and Login to the Teacher App and How To Use the Teacher App
Selecting your Dinner Menu
Once logged in click on the Dinner option.
This will open the Dinner Menu, displaying with the options to View and Select Meals or View balance and top up.
Selecting the View and Select Meals option will display the available Menus for Meal selection.
Note: This will be dependent on the Meal Menus and the Time Limits for selecting from a Menu ,setup by your school.
Days that cannot be selected will be marked as not available, greyed out and locked. Days that can be selected will display as active. Click on a Day to select from the Menu.
The number of Menus and the choices will be setup by your school. Make your selection and click Submit.
Your selection will now be displayed on the View and Select Meals page. Continue to make your Meal selections. moving through the Days and Weeks as permitted.
Dinners Hidden Menus
When Meals have been pre-ordered from a Hidden Menu a Warning Message will be given.
If when booking your Meals you exceed your Balance you will be given a Warning.
Topping up your Balance
From the Dinner Menu page select the View balance and top up option. To Top Up your Dinner Balance and click Pay.
This will open the Top Up page, enter the Amount and your Card Details and Confirm & Pay.
Once this has been done it will be followed by a Success Message.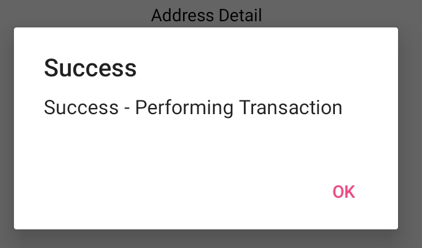 You will be able to see the Transaction Details by selecting the Payment tab.
You will be able to see the Meals your have Purchased by selecting the Dinner tab.
If the Do not let staff create negative balances for Dinner Menu option has been made active under Config > Dinner > Configurations and selecting a Meal via the Teacher App will take that member of staff into a Negative Balance a quick pay pop-up will be displayed. This will allow that member of staff to Top Up their Balance and continue with their Meal selections.